It was a beautiful sunny afternoon in early July when we set off for The Lavender Festival to catch up on this picturesque event taking place in Pecineaga, with only a few days before the harvest and production of the lavender essential oil would start. Boasting about three thousand inhabitants, Pecineaga is a commune in Constanța County, Romania, located just 5 miles from the Black Sea coast.
The farm contained 8 acres of land and was situated at an altitude of 216 feet above sea level. This is the most well-known and iconic lavender field in the area, offering stunning views of the surrounding countryside.
Right next to the remarkable sea of purple was a bold and beautiful wheat field that was gorgeous for photos. In the evening the air grew crisp and cool, the field looked so vivid in the sunlight, and the smiles of the people roaming the field to take the best shots at sunset were creating a jolly atmosphere.
We grabbed a lavender lemonade and slowly made our way through the rows of lavender, trying to capture a glimpse of the scenic beauty. In the field were wooden benches and props for photography sessions, even an old car painted in purple. Amid the lavender moved the refreshing wind, carrying the heady scents through the air. There was a joy that came from each birdsong, the bees humming around, and a sense of peace and tranquility.
At the edge of the field was a display tent with various lavender-based products, neatly displayed on stands. This is a family-owned farm and producer of essential oil of lavender, natural lavender-based cosmetics, a range of lavender gifts and bags, and dried lavender flowers. Just outside the tent stood the owner of the farm, Todor Valer-Nicolae, offering lavender-inspired food, drinks, and desserts with the help of his daughters.
His wife, Mirela Todor, was inside, selling lavender products to a queue of people. She and her husband are Romanian and had returned from Italy with a single dream of becoming lavender farmers, a dream that grew from the desire to build something from the ground up that allowed them to spend more time together, and reunite with their family.
"All the chores are done by me, my wife, and my parents-in-law. We have four kids who participate in the little tasks. We started the lavender farm back in 2014, but we had our first harvest in 2017. It takes five years for lavender to fully mature," recalled Mr. Todor.
Harvesting and Distilling Lavender Essential Oil
The next morning we were on the road again bright and early for the harvest. The harvest was carried out by Mr. Todor on a one-row harvester machine, and his father-in-law, Bălănică Petre, who collected the flowers and stems, and brought them to the distillery by trailer.
The plant material was unloaded and tightly packed in a still. "This unit can hold about 551 lbs of plant material. At the moment, after it had rained at the worst time, we get 0.52 gal per container," he gasped, leaping out of the still.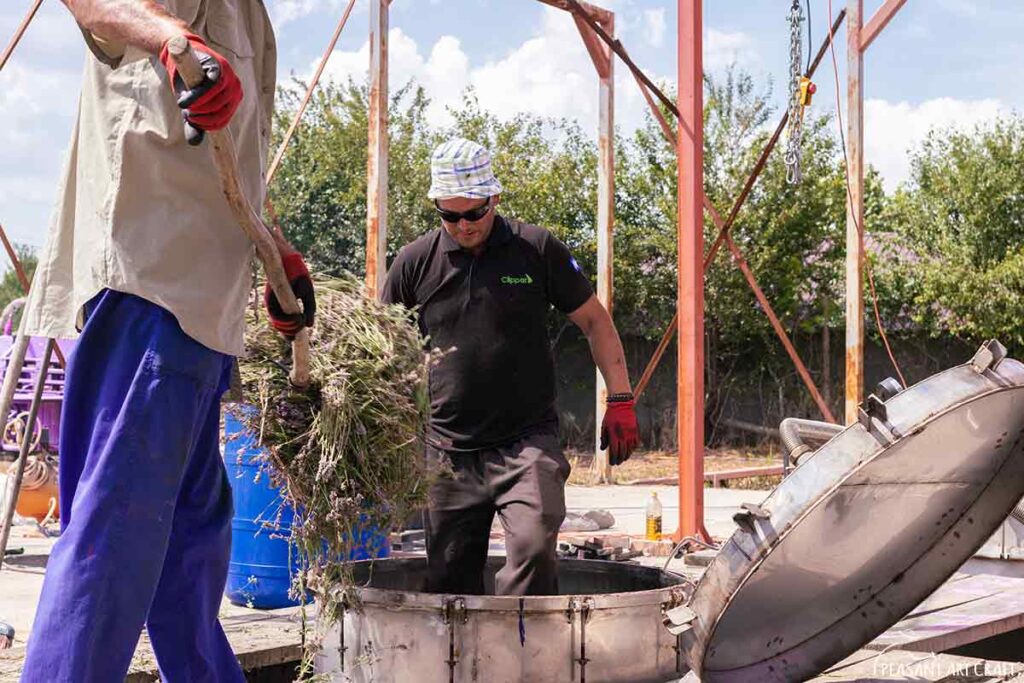 The boiler is loaded and heated until it reaches a temperature of 221 °F. Steam is piped into the still.
"The steam circulates through the still, collecting the essential oils, into a condenser tube, where the steam and oil vapors are condensed back into liquid, and run down the tube into the separating unit, which separates oil from the lavender water, where oil and water are allowed to settle out. The oil forms a layer on top of the water."
The precious oil was stored away for three months in stainless steel churns until they got the test results for this year's crop because the family focused on preserving the organic integrity of their crops. After three months, the oil was going to get filtered, bottled, and sold for its multiple benefits.
"We allow at least three months for it to settle. In the meantime, we wait two months for test results. Our crops are certified organic," said Mr. Todor.
The lavender essential oil promotes relaxation and treats anxiety, depression, insomnia, eczema, nausea, and cramps. For a good night's sleep, I like to sprinkle a few drops each night on my bedsheets and enjoy the scent. It is non-greasy, so it doesn't stain the sheets.
I compared their lavender oil with one from a famous brand, and there was hardly any difference between the two. There weren't any differences in the quality and smell between the two, and after seeing the making process, I am feeling confident to use it on my kids. I am glad I found an essential oil just as high in quality at a much more reasonable price.
Lavender water is a mixture of water and soluble material, also known as hydrosol. It was also stored away until the end of the year when bottled and sold because it's excellent for treating minor burns, and insect bites. It can be used as a facial toner, or as an after-shave, soothing, calming, and reducing redness for all skin types. This summer I tried lavender water for the first time and I noticed it cured pimples overnight and helped treat sunburns.
How to Dry Lavender And Keep Its Color
Mr Todor pulled aside the entrance to a shade tent, only to reveal lavender bunches hanging upside down.
"They are dried bundles for floral arrangements for all occasions. To preserve their color, we keep them in the shade. For the stems to dry straight, we hang them upside down. We cut them in the colored bud phase, without these brown grains. For bunches, it must be harvested early, in the first few days," he said.
I took a moment to breathe in the soothing scent of dried lavender bunches. Not only did it smell amazing, it was beautiful too. The lavender bundles are great in wedding bouquets, adding a country-chic feel to any decor.
Shelling, Winnowing Lavender Buds for Sachets
Now I want to tell you a little of what life on a lavender farm is like. The chief work is obtaining the lavender essential oil, which is done in the above-mentioned way. The family works together as a team. They made drying rakes for lavender bunches to dry on before shelling and winnowing.
With the buds, they make lavender sachets, but first, they must go through a series of cleanup processes. They took a corn sheller and used it for shelling the lavender. With an inventive spirit, the father-in-law had figured out a way of making a winnowing machine with only an engine and bike wheels of different sizes. He looked proudly at his invention.
"This is a winnowing machine that removes the dust. As it spins, the grains fall through a series of sieves of different sizes and into the bag. I wrapped my head around it, but I did find solutions to every problem," said Mr. Bălănică, with a certain air of confidence and a sense of delight as he ran his hands through the clean buds.
After shelling and winnowing, the buds are stored in the attic, away from the sun and wind, and used as filling for sachets and pillows that are manually stitched by the mother-in-law.
What Products Are Made With Lavender?
Aside from this, lavender is used to create a wide variety of products. The wife makes all manner of lavender-based cosmetic products, lavender lipstick, and glycerin soap from natural ingredients, and helps to make lavender ceramic soy candles with ceramic candle holders made by her husband, and with the aid of their kids.
There were lots of things going on in their household and how I wish we had more time to go into the ins and outs of each family member's tasks.
The last time we met was in Olimp at the "Antique & Craft Fair" (Târg de antichități și handmade), at Phoenicia Blue View Resort on the Black Sea, an event founded by Ms. Mirela Dogaru born out of a love of handmade and the desire to support the local artisans.
Packed with lavender products, their stand was the jolliest and by far the most aromatic of all, each item nicely wrapped with great attention to every detail.
It was such a pleasure to meet this family, and I admire their energy and disposition to make the best of things so much that, before I knew it, I had become a loyal customer, and I will always return for more.
Lavender Essential Oil Making – VIDEO
Similar Links