This article features affiliate links, meaning we'll earn a small commission if you purchase through these links. Please read our Privacy Policy for more details.
In June we spent a couple of days in Transylvania, when on a beautiful sunny day, with heady heat, we had a perfect Romanian cheese experience at a remote farm in Laslea commune.
We stayed in the village of Mălâncrav. It was more remote than I had anticipated and travelers to this place would do well to dismiss from their minds the expectation of witnessing a folktale – like scenery, for this is not a characteristic. Mălâncrav is a village where there is no wi-fi, no phone signal, so no time needs to be wasted on browsing social media. Our arrival day was a good one for sightseeing, sunny after weeks of heavy rain. After leaving our luggage, we set out to see something of the village: a centuries-old idyllic settlement with traditional pastel-colored Saxon houses adjoining the unpaved roads.
The silence of the village, interrupted only by rusty old tractors and horse-drawn carriages trundling along at the side of the road bringing people back from the far-off hayfield, invites you to retreat and enjoy the wonderful view.
The most striking features of the land are its hilly nature and the verdure of its monumental vegetation of high conservation value. An important ancient oak tree reserve is the Breite Plateau, 1.5 km south-east of Sighişoara, the largest grassland plateau in Europe, with over 500 trees, aged between 200 and 800 years, a perfect place to go hiking.
Mălâncrav is home to Transylvania's largest Saxon population,  about 150 Saxons who remained here after the collapse of communism, when their neighbors and relatives fled to unified Germany, leaving many Saxons homes empty. In the center of the village, built upon a hill, is the Mălâncrav Romanesque fortified church, built in the 14th century.
Affiliate links Ultra Fine Cheese Cloth Roll for Cooking Straining Unbleached Cotton
The farm is reached following the road that goes to Laslea commune and Florești. After the loss of its Saxon population, Florești is an almost inhabited village.
Just outside the village, nestled between the rolling hills and surrounded by secular oaks, the farm welcomes the hungry hikers and bikers and all those who want to taste an authentic Romanian shepherd's specialty dish, called balmoș, or a flavorful lamb stew in a place off the beaten track while seeing how the delicious products are made: kefir, milk cream, butter and over eight types of cheese: telemea – a soft or semi-soft white cheese with a creamy texture and a tangy aftertaste made of sheep, goat or cow's milk, branza de burduf – a kneaded salty bellows cheese, cottage cheese, processed cheese (brânză topită) and a semi-hard yellow cheese made in Romania, called cașcaval, smoked or unsmoked.
Affiliate links Wood Burning Outdoor Fire Pit
The kind people of the farm give us such a warm welcome. Florin Cosorean, with his wife, Liliana Cosorean, and their youngest daughter lead more than a busy life. They wake up early and work hard all day, having to make the products, see to the cooking, superintend the dairy. With the exception of groceries, the farm produces what else is wanted. Cattle, sheep, goats, and poultry-rearing are carried on as a means of living for the household.
It was the object of Mr. Cosorean to be as independent of outside help in the matter of food as possible: "I was born in Florești. I have dreamed of owning my own farm for as long as I remember. After working abroad, I came back and bought the land.", remembers Florin.
Unlike him, his wife, also born in Florești, had a different vision for the future, one that changed once she married Florin. "I remember my father insisting on showing me our property boundaries, but I refused, being totally convinced I will never become a farmer. The land didn't interest me. My purpose in life changed completely after I met Florin and I really enjoy farming.", says Liliana. Her energy and disposition to make the best of things are just admirable.
Making Cașcaval – A Semi-Hard Stretched-Curd Cheese
After serving us a glass of refreshing water from the fountain and a cold lemonade they prepare for making cheese, as the shepherds return from the evening milking with buckets full of cow's milk. It is strained, rennet added, and left to ripen 30 minutes. Afterward, the curds are gathered into a cheesecloth and let rest in molds inside a covered pot until the next day, when Liliana will prepare the cașcaval cheese.
Caşcaval is the traditional name for a specific semi-hard stretched-curd cheese made in Romania, with sheep or cows milk cheese.
Affiliate links Cheese Mold with a Follower and Cheesecloth Cheese Making Kit
"To make the cașcaval cheese, it is important to leave some whey into the curds resulted. The whey will ferment the cheese.", explains Liliana. The next day, the fermented cheese takes on a yellowish color. The process of cașcaval cheese making then commences and is effected by Liliana. First, the curd block is cut into thin pieces and stretched inside a hot bath, either boiled whey or water. After a few minutes, the curd pieces begin to stretch and they are rolled and kneaded together with a wooden spoon inside a metallic strainer. After kneading, the curd dough is transferred in molds and periodically turned upside down while left to cool and harden for a couple of hours.
In the evening, the cașcaval is placed in brine for one hour, then drained and ripen in a ventilated cooler. After aging for five days, it is ready to eat. To make smoked cheese, the cașcaval cheese is stored in the refrigerator for at least 7 days before smoking.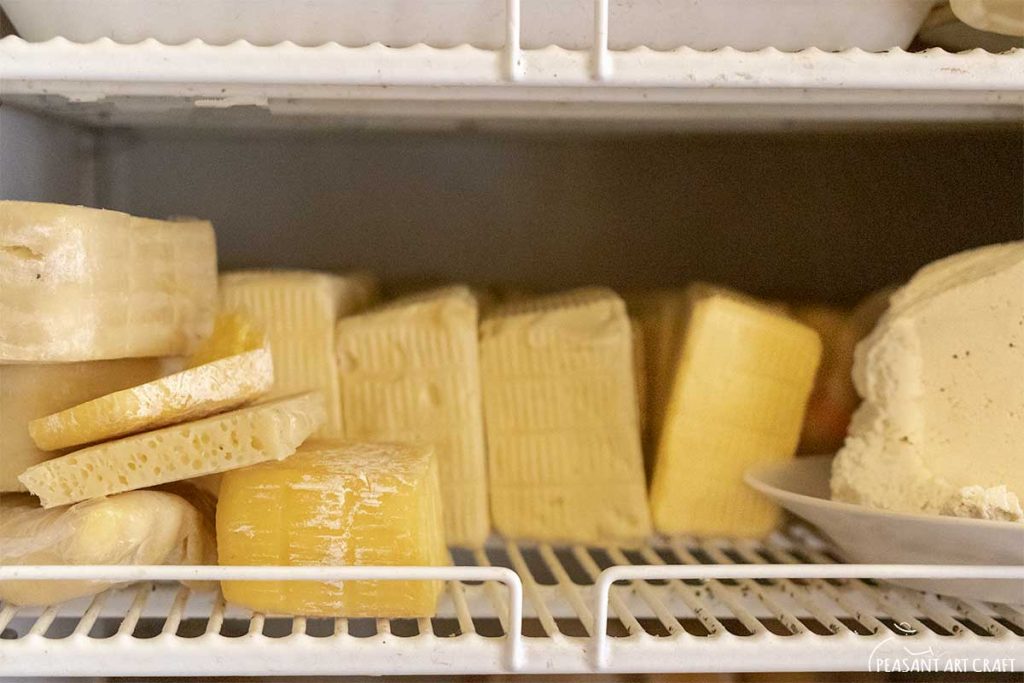 Twenty liters of milk will give four kilograms of juicy cheese, which is used to make about two and a half kilograms of caşcaval. The result is a yellow cheese, slightly briny, perfect for slicing.
Romanian Cheese Experience -Making Processed Cheese
Liliana places a pot of hot water simmering on the cooker, and then she gently starts processing cheese inside a bowl situated above the pot of boiling water, until fully melted. The double boiler is used for transmitting gentle heat, avoiding cheese burn in the process. "Among the different types of cheese, cașcaval, and processed cheese are my favorite recipes. I make processed cheese from 500 grams of fresh cow's cheese obtained from low-fat milk. Add 1 tsp salt and 1 tsp sodium bicarbonate and a little butter, stirring all the time until completely melted, with no grains left in the sauce. Pour into a mold to set and let it cool and harden inside a refrigerator for a week ", she says.
"Practically speaking, you get more from your milk through different means of production: after you separate cream from whole milk, you get low-fat milk of 1.8%-1.7% fat content. From the skimmed milk resulted, we make cottage cheese, which can be a snack, or it can be heat-processed, mixed with salt and butter, and melted inside a double boiler", her husband adds.
Balmoș – A Traditional Shepherd Dish
Meanwhile, Florin has been preparing a delicious kid-goat stew, slow-cooked in a big cauldron over a fire. It is about time to welcome guests for dinner, so he wants to entice them with the best balmoș, a traditional shepherd dish while having the extra perk of watching their food being cooked in front of their eyes.
"This recipe is super versatile In fact, there isn't a specific recipe for balmoș, but ours comes close to how an authentic balmoș should be prepared. Here, we boil the cornmeal in the leftover whey, last squeezed out of the curds during the cheesemaking process. This is a high-fat white whey that looks like milk." He starts the balmoș making with a steady good fire, keeping the whey at a boil the whole time. The cornmeal is steadily stirred in as it falls, or it will form into lumps as it reaches the surface. "Adding a few locally sourced, good quality high-fat ingredients just transforms it to a magnificent dish: milk cream, butter and two types of cheese: sheep cheese and bellows cheese (branză de burduf).", he says while pointing to the mouth-watering ingredients, neatly arranged on a wooden tray. He adds them to the mixture while stirring continuously as the cornflour thickens. The balmoș is ready when it gets very thick and pulls away from sides when scraping the cauldron.
It is delicious, creamy, cheesy, and highly flavored. The combination of cheeses gives the balmoș a unique flavor that is loved by all cheese-aficionados. It made the perfect savory side dish to the hearty goat stew made from the finest all-natural goat and farm-grown vegetables.
Similar Articles
Apple Juice Making at Family Farm from Romania, Bukovina
Romanian Peasant Harvesting Corn By Hand, Just Like in Olden Days