Although we did visit many places in Maramureș, nothing immersed me into the rich local culture and nothing helped me understand the local's spirit better than our stay in the Bârsana village. In fact, it was a car issue that made us stay longer in the area than initially planned. Soon, we turned the bad situation into a positive experience, decided to go local and feel the spirit. We spent six days in the Bârsana village, while visiting the villages nearby.
1. Lose Yourself in a Real-World Fairy Tale Landscape at the Bârsana Monastery

Visit Maramures: Bârsana Monastery
Since we became so familiar with the village and the monastery, I figured it would be the first place to recommend. What better way to start and end the day than taking a walk through the pittoresque courtyard, admiring the neat, well kept gardens with flowers and wondering at the architecture of each building, while hearing the peacock's scream?

Visit Maramures: Bârsana Monastery
This beautiful sight is well taken care of by nuns, who seem to put enormous efforts in cleaning, gardening, farming, cooking.

Visit Maramures: Bârsana Monastery
The monastery is a complex of buildings, consisting of The New Church construction, built between 1993 and 1995, The Old Church from the 18th century, and other constructions with restricted access, such as the priory, the nuns' house, the confessor's house, the belfry.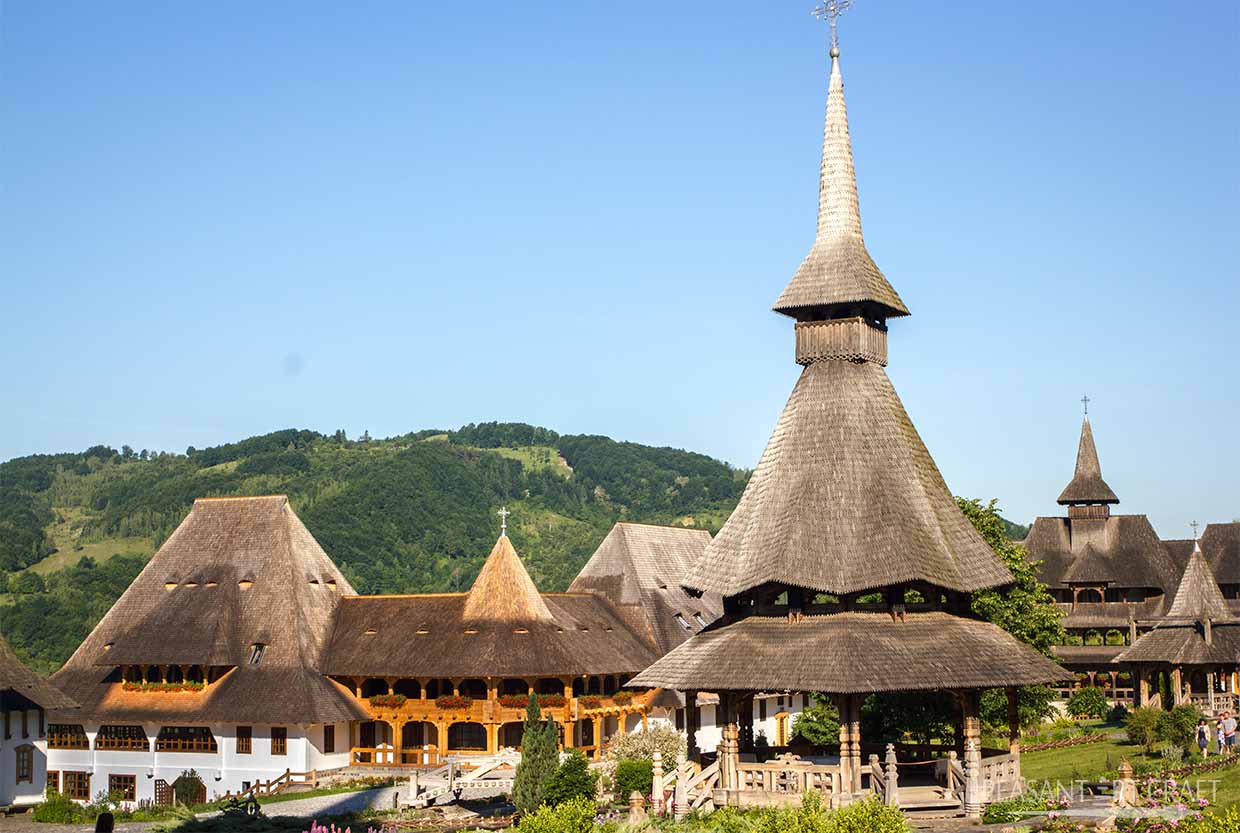 The Old Church of Bârsana is an example of the uniqueness of Maramureş architecture, being one the eight wooden churches from Maramureş included on UNESCO World Heritage List. The two churches are high timber constructions with tall, slim bell towers, proving local men's both craftsmanship and artistry in wood carving.
There is a big parking lot in front of the monastery, where they serve super cheap and delicious food at the monastery's restaurant. A vegan sarma (cabbage roll) is only 1 RON, about 30 cents and a soup costs only 5 RON, about 1.30 USD. The monastery, located in a wonderful landscape on the Iza valley, near a forest, is a nice place to spend a night or two if you travel by trailer or motorhome. I loved waking up to the scream of the peacock and hearing the sounds of the forest.
2. Visit Maramureș Villages – Explore the Culture Authentically While Going Local at Artisans Crafts Fairs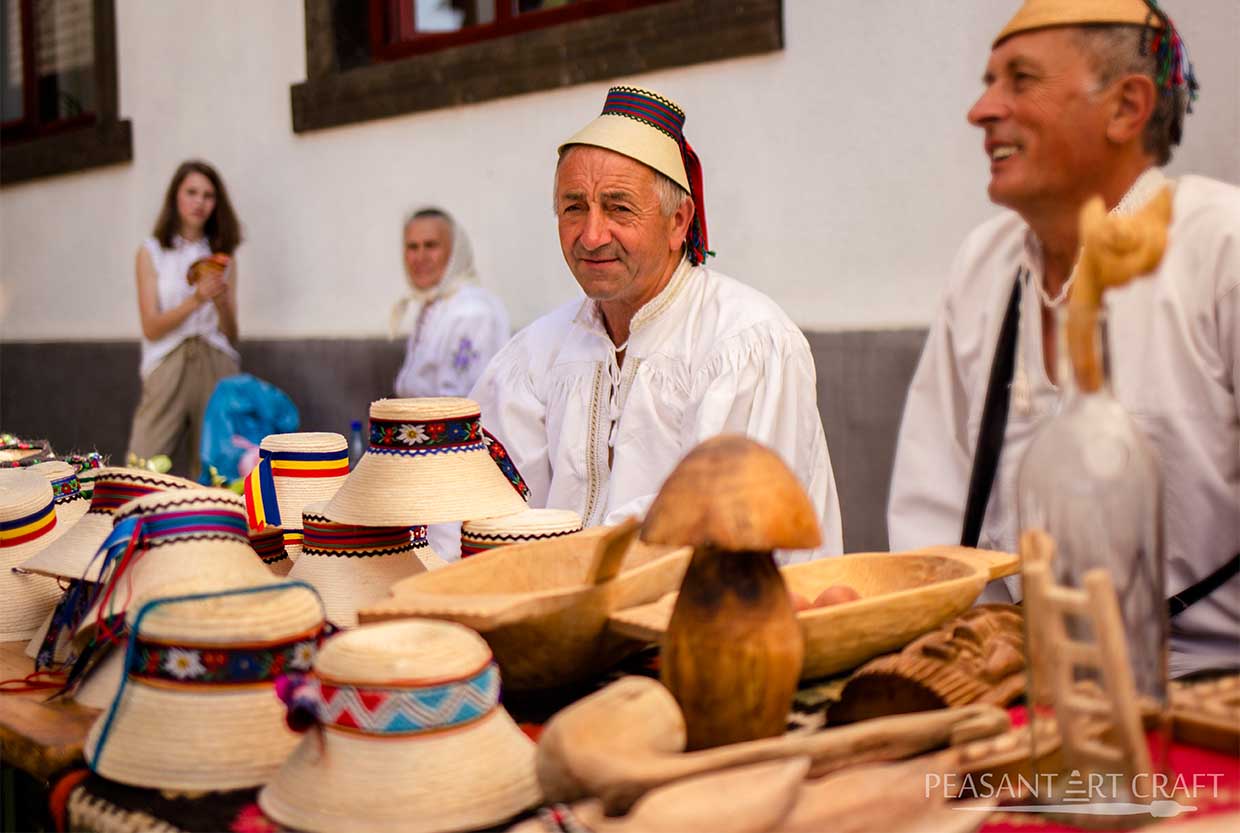 Visit Maramures: Artisans Crafts Fairs
While traditions and customs are extinct in other regions of Romania, they seem to flourish in Maramureș. This is probably why meeting the local people isn't a bad idea.
There are many popular artisans in almost every village. In their spare time, they can be found sitting on benches in front of their houses, driven by the desire to form or maintain social bonds. They are great travel counselors.
They will invite you in and share a meal with you. It just so happened while in Sârbi village, we were invited to dinner at a local man's, Pop Ion. He even asked me to serve the food. Imagine roaming around a stranger's kitchen before you know it. Being a widower, whose daughter is married and his son is working abroad, he spends most of his time alone. Having us over for dinner cheered him up and made us feel like locals. We ate some tasty stuffed cabbage rolls. His hospitality amazed me.
3. Feel the Spirit at the Romanian Village Celebration

Visit Maramures: Village Celebration
Annual festivals are held throughout Maramureș. The dates and places are published in the guidebooks. Events associated with important dates in the Orthodox calendar are held in many villages at same time and are usually non working days, a religious superstition so deeply rooted in their culture, that any activity in the fields or around the house is ceased during these days. Instead, they dress up in their best Romanian traditional costumes and celebrate with dance and music, adding to the festive atmosphere.
Women wear kierchiefs, white shirts with cuffed puffy sleeves, ample skirts covered with two aprons featuring horizontal stripes. They don't seem to enjoy wearing peasant sandals, the traditional type of footwear. They have a thing for high heels.
Men wear traditional blouses, vivid waistcoats, very wide trousers and traditional hats. Each ethnographic region has a local specific when it comes to costumes and dances. Among the dances, the most well known is "Învârtita", Turning Dance, with rhythmic shouts, "Strigături" keeping to the rhythm of the music.
4. Visit the Traditional Mechanical Water-Actioned Mechanical Systems Still in Use in the Sârbi Village

Visit Maramures: Old Mechanical Water Actioned Systems
In Maramures villages, the knowledge of old traditions is preserved, keeping the countryside alive.
Traditional water-actioned mechanical systems are still in use in the Sârbi village. We stop and quickly receive an education from a group of old men sitting on a bench in front of massive, finely carved wooden gates, characteristic of Maramureș, as one can easily observe.
There is a batoză, a water driven thresher for separating wheat from chaff and straws, a traditional wool felting system with massive wooden beams (piuă), a traditional washing machine (vâltoare) and a plum brandy maker.
It is the distilling season, so people are busy making the purest and strongest traditional plum brandy (horincă). Before being poured in bottles, they like to fit miniature wooden ladders in the glass bottles, making it look more inviting.
5. These Two Maramureş Old Houses from Breb Village are Known to Have Ties to Prince Charles
We went for a leisurely walk on the old paths in nearby Breb village, a maze of small, narrow dirt tracks with thick vegetation and old trees hardly letting the sun rays through, revealing old houses with massive wooden gates as the old track meanders and turns. The whole village is an inhabited open air museum, untouched by civilization, although everywhere you go you find tourists from all over the world hiking or biking.
Arriving at the village bar, we take some time to sit and listen to all the gossip of people I don't even know. Usually gossip doesn't appeal to me, but it sounds more like a news report. Thus, we find out about two houses rescued by the Mihai Eminescu Trust patronized by Prince Charles until August 2013.
It's about a traditional Maramureş wooden house originating from Berbeşti and an 18th Century house from Ferești, transported and reconstructed in the center of Breb village.
6. This Old Church in Breb is One of the Few Still Standing Maramureş Wooden Churches from the 16th Century

Visit Maramures: Village of Breb
While wandering through the narrow, twisted paths of Breb, still more surprises were to follow. We stumbled upon an old scary looking church on a hill with a small graveyard.
The Archangels Michael and Gabriel church has the oldest wooden tower in Romania, dating back to 1531, and the oldest cross extant circumscribed in a circle, belongs to the Celtic culture. The church was initially built in another part of the village and transferred to its current location in 1626.
7. Don't Miss The World's Happiest Merry Cemetery from Săpânța
With very colorful wooden tombstones and suggestive paintings, the Merry Cemetery, located in Sapânța, Maramureș county, attracts crowds of people. Each tombstone tells the story of the deceased and the work they did in rhymes. The paintings highlight people's occupation. I don't know what's more bizzare – the deceased speaking after death, or people taking selfies with the crosses.
The tradition was started by local carver Stan Ioan Pătraș in the mid-30s and continued to this day by his apprentice, Dumitu Pop. If you aren't Romanian you will need a translator. Being one of the highlights of Northern Romania, some of it's defining characteristics are worth discussed in a future article.
8. Don't Leave Săpânța Without Visiting The Tallest Wooden Church Construction in Europe – The Peri Monastery

Visit Maramures: Perry Monastery
If you are in Sapânța area, don't miss visiting the Orthodox Sapânța Perry Monastery. Located in the middle of a forest, at only 1 km away from the Merry Cemetery, this is a place to rest and relax after the crowded cemetery. Recently built, with a total height of 78 m, the church gained a reputation for being the tallest wooden construction in Europe, with an impressive high tower.
It was built on stone base by specialized church carpenters with advanced knowledge in building houses of worship. Large amounts of oak wood and massive logs with wood nails and bins were used for it's construction. The staircase was made of a big tree trunk.
9. Get Familiar with the Unique Local Architecture and Traditional Ways at the Sighet Village Museum

Visit Maramures: Sighet Village Museum
The Sighet Village Museum is a complex of old typical Maramureș wooden houses, barns and other farm buildings that have been restored and displaced from their original location and moved in a natural environment, resembling an old small village. It is a very pleasant walk around, as some interiors can also be visited, arousing your curiosity. There is even a lake and an old church located on top of a hill there. It is an enjoyable way of studying the local architecture, furniture and old tools from the days of yore.
10. Ride the Lift Up for a Fun Small Hike to Horses Waterfall
Located near the tourist resort of Borșa, at an altitude of 1300 m in the Rodna Mountains, the abrupt 90 meters high waterfall flows in several steps. The water gathered in a glacier circle flows over a steep limestone called "Podul Cailor" (Horses Bridge). It is reachable from Borșa Turist Complex by chairlift. From the end station of the chairlift, you will take a 30 minutes hike to get to the Horses waterfall, so called after what is said to be a true story.

The story has it that, in the past, local farmers used to graze their horses here. One night, while trying to hunt them, a hungry bear chased them towards the abrupt waterfall, making them jump. Too bad we were in a rush and didn't continue to climb, as the path goes to the Ştiol Lake, a glacier lake with an extraordinary view.
Read Also Rustic Restaurant Decor Ideas Traditional Romanian Style Interiors