This article features affiliate links, meaning we'll earn a small commission if you purchase through these links. Please read our Privacy Policy for more details.
In the Romanian village of Sâmbăta de Sus, we had a unique occasion to admire Romanian folk art creations made by textile artisan Lucia Ciocoiu. At the age of 71, after a lifetime in the weaving business, she continues her work, not only from passion, but also for the purpose of serving her people.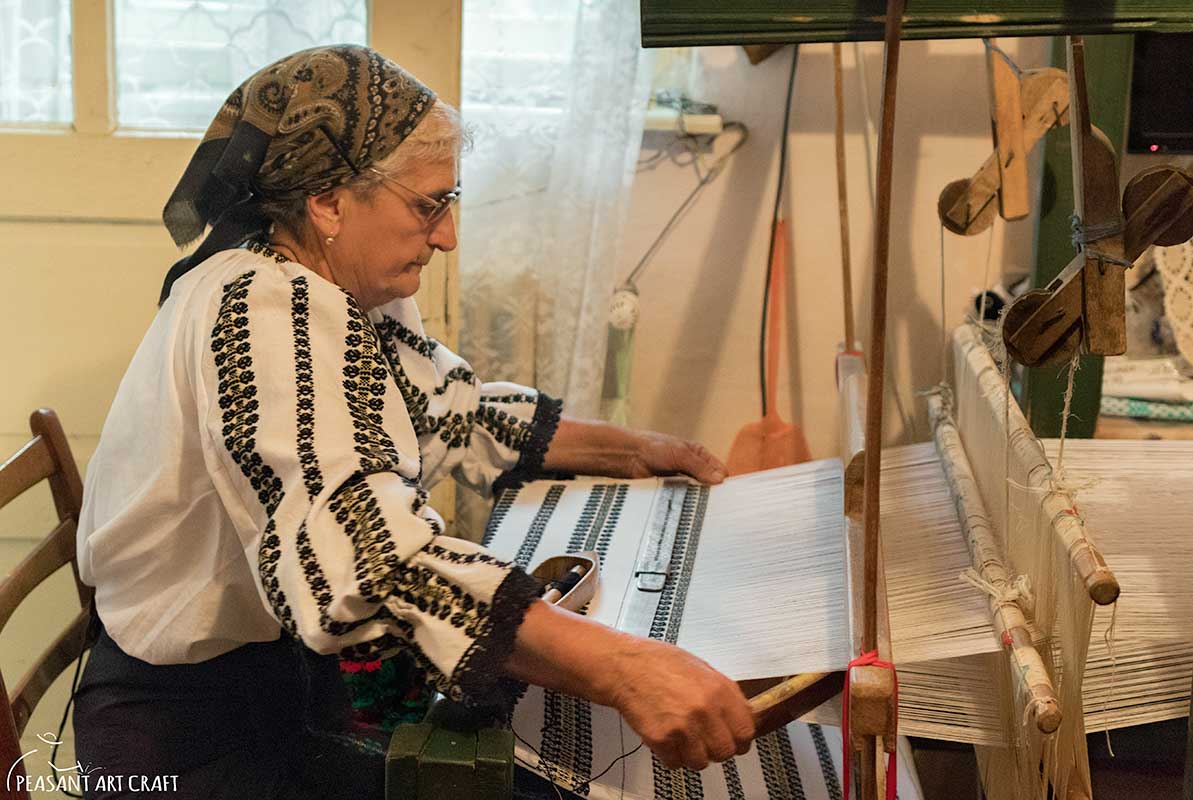 Even though the usage of traditional clothing in Romania is restricted to social events, such as weddings, festivals, school celebrations, there's a steady demand for traditional attire.
"It is on the elders to work, since hardly any young people in our village are interested in learning", she says while running her hand over a stack of eye-catching array of garments.
Affiliate links Schacht Cricket Loom 15 inch
"In my childhood, everything I wore and all household textiles were made by my mother. She was always weaving", Lucia remembers. "Then I had my own garment factory", she continues.
Romanian textiles began as a way of life and, with time, they became a form of art. I stare at the beautiful artistic weavings displayed on mannequins. "Those are complicated weave structures produced with shed sticks and heddle rods", she explains while I take a close look at one of her traditional Romanian blouses (ie). "The ornaments, flowing down from the beautifully embroidered collar to the cuffs and chest, are handwoven", she continues.
She invites us to her workshop for a short weaving demonstration. Once inside the small room, a loom already set up and a number of heddle rods placed onto the warp grab the attention.
Affiliate links Best Art Craft and Sewing Deals
"This technique requires two weavers – one to sit and weave, while a second weaver opens the shed. You will do it for me", she says while handing me a shed stick.
Although this type of weaving is not something unfamiliar, I get so confused by the intricate heddle system, that the lady has to stop weaving, stand up and come behind the loom to explain over and over again which heddle rod to pick up and where to slide the shed stick. It's a lot harder than it looks.
Thankfully, Lucia's neighbor and assistant, Livia Folea, arrives right on time to save the day. She is a professional. With firm movements, Livia picks up each heddle rod, opening the shed, while a floral pattern emerges between Lucia's hands. They are weaving cotton fabric for traditional blouse with two shafts for plain weave and additional heddle rods to create the floral pattern.
Romanian Blouses and Costumes from Sibiu, Transylvania
Read Also