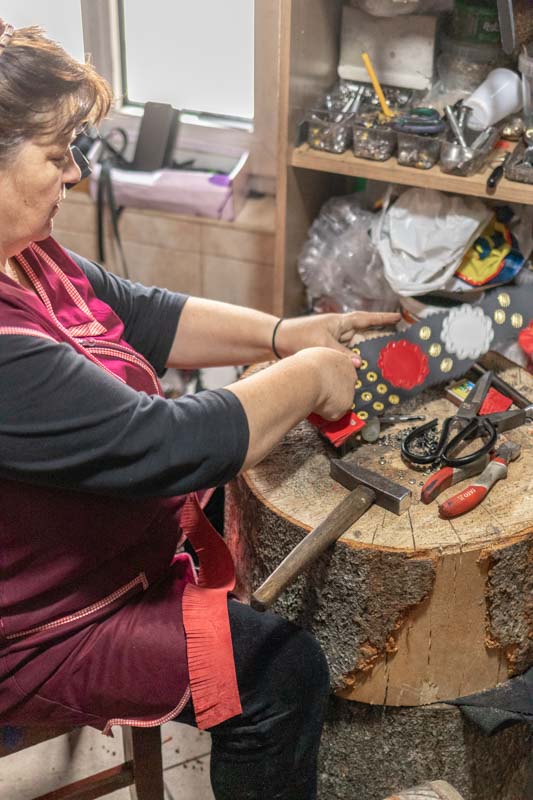 This article features affiliate links, meaning we'll earn a small commission if you purchase through these links. Please read our Privacy Policy for more details.
Handmade horse harness making from 100% Romanian leather, locally tanned
In the charming village of Bilca, where so many pretty old wooden cottages abound, I was once a guest in a local leather workshop, and pleasant indeed was the day I passed. Leather craftsman Crăciun Ovidiu Leon had many leather crafters gathered together in the same space, each one doing his own work, but needing one another to get work done. At the entrance in the workshop stood mr Craciun, cutting leather out for waist belts and horse harness making on his cutting table.
The smell of leather somehow reminded me of my school days, and a particular pair of leather shoes I used to wear, made of the softest, most supple leather I had ever touched.
"We use 100% Romanian leather. It is a good-quality leather. We buy raw pelts and take it to the tannery. Here, in Romania, we have had some top-quality tanneries, specialized in leather and pelt tanning", explained Mr. Crăciun. The leather used was cowhide, which is thicker, stouter and suited for articles requiring greater firmness than others.
Having an experience of over twenty years, not only did he know a great deal about leathercraft, but also he had a great sense of business.
"I have been doing leathercraft for 36 years. I made two years of training as an apprentice", remembered Mr. Crăciun.
Making straight cuts across the leather with a scratch awl and a leather knife, he had cut out straps needed for crafting horse harnesses. Then the straps were passed on to the men responsible with sewing the parts together on a leather sewing machine.
Further, the horse collar was manually stitched by another man operating a stitching pony. Next, he took harnesses upstairs in a separate workshop, where women were organized, and handed to Viorica, the lady who did the decorations on the frontal pieces. Here came the most astounding part of the assembly: each harness was manually embellished with red bridle tassels and brasses, made locally by skilled smiths, adding a bit of fancy to the harnesses. It is absolutely amazing to think at the manual labor and the number of people contributing to the creation on this kind of harnesses which seem to prevail at horse fairs and racings.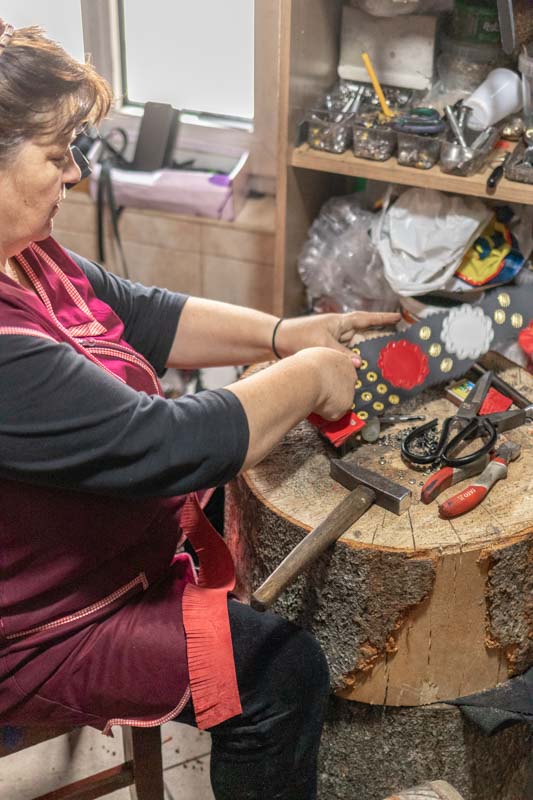 "Everything here is handmade. The brasses were hand carved by local smiths", explained Mr. Crăciun.
Developing a well-functioning team is the key to the success of this business and Mr Ovidiu had involved all his family members in the business: wife, son and daughter. In the ladies workshop, Viorica stood at the window. The wife, Crăciun Oltea, making weaver horse halters, and daughter, Ana Maria, stood together on the seats nearest the door. Ana Maria was making patterns on a leather waist belt with a punch, at one end of which is a design which is of great help in making little patterns over a leather background, while with the right grasping the light hammer, a sharp tap is given so that the pattern is transferred to the leather.
A family run business designing and handcrafting leather bags, belts and traditional wide belts for decades
Affiliate links Leather Craft Supplies Strips Shapes Scraps
Being a part of the Romanian traditional men's costume, these wide belts are in high demand here, in Bucovina, where national costumes are still worn at special events. The making process of these waist belts began with cutting out, and folding the piece of leather by knocking with a hammer. The pattern may be simple or elaborate.
It was embossed by use of an old leather press, leaving as many impressions of crosses, stars, circles, trefoils, triangles and other patterns. Then the belts were glued, punched and had their buckles sewed on. It was completed being varnished to give it a professional and finished appearance.
After having seen a small fraction of the making process, Mr Crăciun conducted us to the storage room, where we could see the finished products. There were harnesses of different sizes and designs, custom-made, or ready-made. A single horse harness may have as many as 36 pieces and takes weeks to make. Being one of the few skilled craftsmen in this important trade, his work is highly treasured by people who raise and work with horses.
Location: Bilca, Suceava county, Romania
Contact: 004 0740 933 551
Similar Articles
Stunning Diversity of Romanian Leather Art – Each Village Has Unique Designs