This article features affiliate links, meaning we'll earn a small commission if you purchase through these links. Please read our Privacy Policy for more details.
The Merry Cemetery from Săpânța, Maramureș Is Unique in The World
If you visit Maramureș, then you must add the merriest cemetery in the world to your travel list. At the Merry Cemetery you will not feel at all you are in a cemetery! Located in the middle of the small village of Sapânța, it is one of the highlights of Maramureș. Colors, naive folk art and different view of life and death is the description of this cemetery.
It is asserted that the name of the cemetery was given by a frenchman traveler long before being widely recognized as a significant tourist attraction in Romania. The church with a splendid tiled roof stands tall in the distance. It is currently under restoration, so there's not much to see inside, but the exterior is beautiful.
There are about 850 graves telling the story of the deceased in rhymes. All words on the tombstones are in Romanian, but there are books with English translations available. In spite many people's expectations, the stories written on the crosses aren't humorous, but rather carefree, a little sad or even disturbing – from the village's most notorious drinkers to the young boys who died in the WW2. Judging by that, the Merry Cemetery is not necessarily merry.
It is the colorful wooden tombstones and suggestive paintings that give it's name. The deceased's occupation is mainly depicted on the paintings, which suggests that these people define themselves through their jobs. From all the testimonies, it looks like women were mainly engaged in the textile production and men were mainly carpenters.
Agriculture and woodworking (carpentry, carving gates, shake roofing) are the fundamental occupa­tion of both men and women. Most popular names in Săpânța are Pop and Stan. The background color is a distinctive vivid blue, called Sapânța blue, a specific color also used in interior design and on the home facades.
Here's an example of a traditional interior design featuring Săpânța blue inside the memorial house of local carver Stan Ioan Pătraș, the initial creator of the tombstones in the Merry Cemetery. Born in 1908, in a family with a long tradition in wood sculpting, he was passioned for sculpture and carpentry.
Every object, the bed, chairs and cupboards was made by his hands, as well the exterior of the house and fences. In the mid-30s, he started to carve small poems written in the first person onto the tombstones. He died in 1977 and was burried in the Merry Cemetery.
The tradition was continued to this day by his apprentice, Dumitru Pop, whose workshop can be visited at the local memorial house.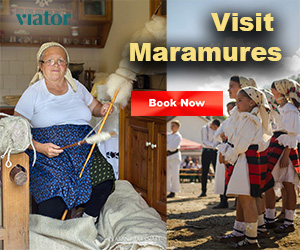 Dumitru Pop


The Memorial House
Read Also Spoon Carving Wooden Spoons and Ladles