This article features affiliate links, meaning we'll earn a small commission if you purchase through these links. Please read our Privacy Policy for more details.
Affiliate links Leather Craft Supplies Strips Shapes Scraps
Folk art has been a communication tool for centuries. People used to communicate on a non-verbal level by their dress. In the past, and still in some traditional communities of Romania, when people got together at regional fairs, you could guess their home village just by looking at their dress. Each community has its own inventory of ornamental and chromatic elements. The costume shows where someone belongs. For instance, Romanian people wear leather garments that identify their specific village as a means of communication. Inspired by nature, using ancient sewing and beading techniques, Romanian leather art differs from one village to another.
"There are small differences from one village to another", says traditional embroidered leather coat maker Gheorghiță Gheorghe Viorel from Vicovul de Jos, Suceava County. "They are exclusively handmade. Not a single machine stitch ", he points at an unfinished leather vest laid on the table. "It is made of lambskin, with astrakhan or polecat fur borders.
He shows us one of the many pictures in a photo album that records the diversity of the traditional leather vests: "This vest is from Frătăuți. You can tell by the flower at the backside" This one here. It is missing on the vests from Vicov", he continues. Gheorghiță Gheorghe Viorel, aged 46, is carrying on the business of his father and grandfather, with the support of his wife, who does the amazing leather beadwork.
Affiliate links Buy Natural Tanned Leather Pelts
"Different communities have different ways of constructing their leather garments, dependent upon the different ethnicity, geography, climate, and cultural traditions of the people of each Romanian village. Similar to spoken language, these patterns are passed on."
He continues to leaf through the photo album, naming the origin of each vest shown in the photos. His album encompasses the wide variety of traditional embroidery, embellishment, styles of constructing their traditional Romanian coats.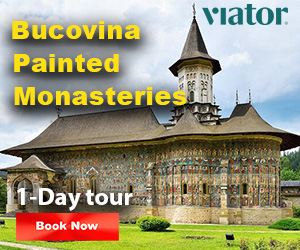 Similar Articles
Leather Belt-Maker Works in Medieval Tower Following Guild Extinction