This article features affiliate links, meaning we'll earn a small commission if you purchase through these links. Please read our Privacy Policy for more details.
In Romanian Village of Drăguș Textile Weaving Art is a Labor of Love for These Busy Bees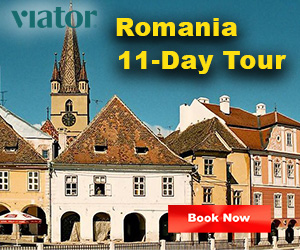 Throughout every settlement of Transylvania, whether cities or villages, strong German architectural influences are visible. The structure of the villages is gathered, with households concentrated within the limits of the heartlands. Houses with no fences, facing the street, with exterior wooden shutters closed. You would think that the whole village is abandoned. It isn't. Actually, the house facing the street is only for special events. The rest of time, it is left unoccupied.
Affiliate links Schacht Cricket Loom 15 inch
This is the space where the wife's trousseau is displayed, the clean room. Keeping the windows and blinds closed prevent dust from entering. The family live in separate rooms, away from curious eyes.  Judging by that, I thought the locals to be reserved, not willing to impart information. It wasn't even close. On my first encounter with weavers from the village of Drăguș, we were received with great hospitality. Textile weaving art still thrives in this village thanks to dedicated artisans. Within a short time we familiarized ourselves with the folk costumes of Drăguș and observed the art of weaving complex patterns at local loom weaver Fogoroș Viorica. Two doors down, her neighbor, Ana Rogozea, was going to introduce us to the craft of weaving traditional towels (cârpe).
From Ana's courtyard, we step inside her workshop. Natural light coming in through beautifully draped windows floods the freshly woven fabric stretched on the loom. Vivid shades of red – burgundy, red-violet – dominate the space. These are traditional colors of Drăguș, widely used on almost every traditional textiles, including costumes, accessories and home decor. Ana is a 68 years old jaunty lady, who doesn't look her age.

Traditional Peasant Bag
"I have been involved in weaving art since I was a teenager. My mother taught me.", she says. "After marriage I got a job and continued weaving in my spare time", she continues, while pulling out a pile of old stuff she made decades back.
Among them, a vintage table runner made of natural dyed wool really sparked my interest with it's rich and unexpected colors, much more different than the pigment used in today's chemical dyes. Natural colors that just blend perfectly can be observed in the brilliantly patterned drapery. This is a type of window adornment specific to this region, locally known as "chindeu".
VIDEO – Textile Artisan Ana Rogozea Hand Weaving Traditional Towels With Vibrant Patterns
Affiliate links Best Art Craft and Sewing Deals
Traditional towels, specially designed in complex patterns, adorn the walls. They are tied in the shape of a bow and draped around pictures. These decorative textiles make a big impact, showing off the women's weaving art skills, diligence and scrupulous attention to detail.
She sits on the loom to continue working on a traditional towel. The design is formed by a combination of plain weave and hand picking – positioning the yarn by hand to make the pattern. This method is referred to by a variety of different names peculiar to particular regions: "trăsătură", "alesătură", "alese cu mâna".
Both ends of a towel contain full hand picked portions. The plain woven center is usually striped, with hand picked vertical, zig zag, curved or dashed lines in between stripes. Once a sketch is made of what needs to be woven, the artisan begins weaving stylized geometric motifs, counting and changing colors, each color wound on it's own bobbin. By the time we arrived, she had already started weaving the center portion, passing the weft thread over 3 warp threads, under 3 and over 3 until the row is finished, continue in plain weave, then again over 3, under 3, creating dashed lines.
Read Also