This article features affiliate links, meaning we'll earn a small commission if you purchase through these links. Please read our Privacy Policy for more details.
Meeting Romanian Traditional Weaver Veronea Mutescu In The Village of Vicovul de Jos
Affiliate links Schacht Cricket Loom 15 inch
When visiting a Romanian village, it feels like people in the countryside live in a different timezone. Most of the village men are engaged in many occupations, such as handicrafts, hunting, agriculture. But, even so, they live slowly and are incredibly versatile. Aside from weaving, cooking and housekeeping, they breed and raise animals, cultivate lands and raise crops, explains traditional weaver Veronea Mutescu, who has been living her whole life in the hills of Bucovina, in the village of Vicovul de Jos. Although she's having a busy day slaughtering a hog, she finds some time to invite us in for a short winding warp and weaving demonstration.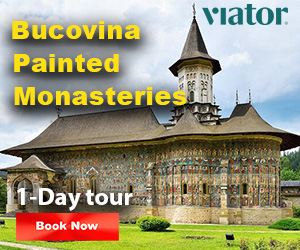 Her loom is already set up for making plain black waistbelts for monks. She shows us her weavings, which include everything from peasant bags and cords to blankets and rag rugs.
Winding Warp on a Skeiner Before Weaving Patterned Bands
Affiliate links Best Art Craft and Sewing Deals
She goes on to show us how she winds her warp on a skeiner. She uses cotton yarn in two different colors, red and black, which she spins before winding to prevent lint balls formation.
She starts by tying the yarn in a loop around first peg, then leads it forth to peg two and three and around peg four and back. When returning to peg one, the yarn needs to cross itself, forming the cross, which keeps the threads in place. While winding the warp, she keeps the balls of yarns in a bowl. To change colors, she stops every few winds to cut and tie on the new yarns to each other. An important part of the traditional textile crafts is using yarn winders.
A warp set up this way is the base for creating warp faced bands similar to the patterned bands traditional artisan Aurelia Cârdei is weaving in a previous article.
Before removing the warp, she ties the length of the warp and the cross by it's arms and not around the waist of the cross. This avoids the yarn being compressed. In the end, she removes the warp by chaining it.