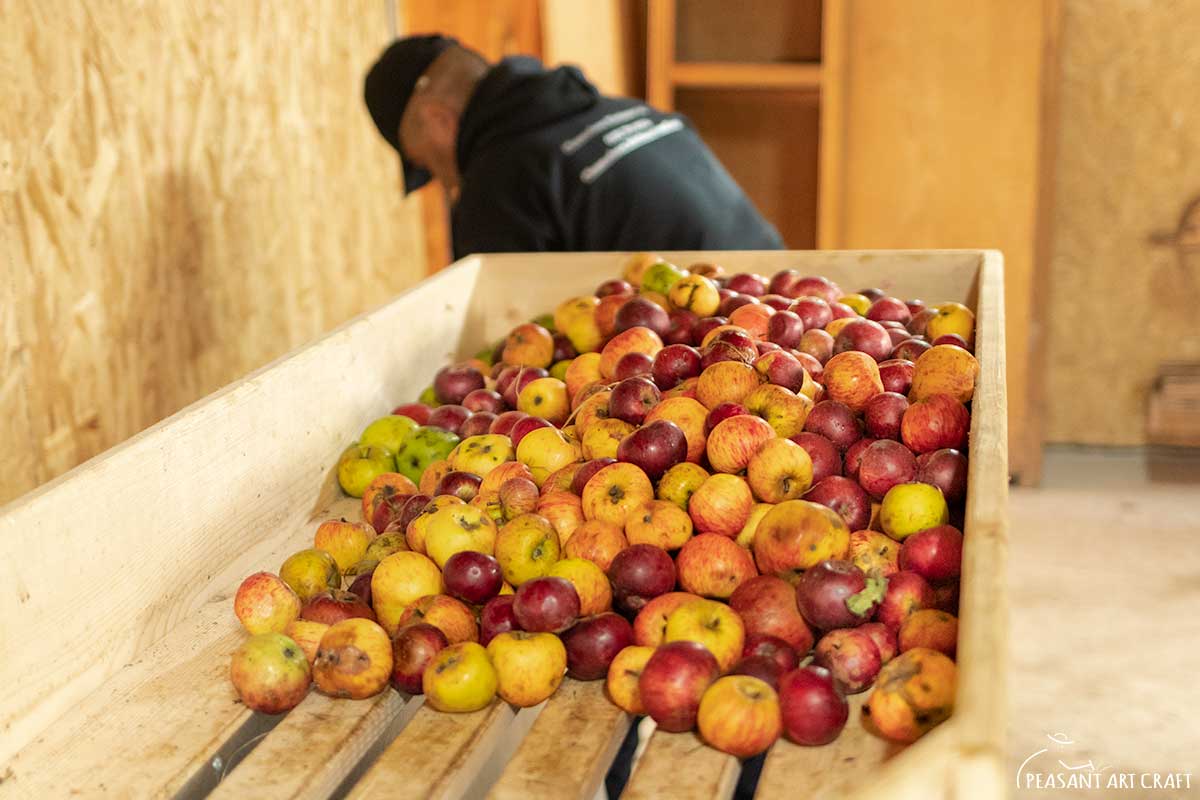 Apple juice making and other cold-pressed juices are gaining popularity among Romanian consumers. Because of the production technologies, these juices are widely perceived as healthier. In the region of Bukovina, many family farms are running small scale fruit juice businesses.
This juice is made from organic fruits, mainly apples, grown in a mountainous area, and harvested through sustainable ways of farming. Mountain communities still seek sustenance from the land, providing high-value and high-quality products. With acres of apple orchards, this family yearly produces enough apple juice for family consumption, using only locally grown, unsprayed apples.
After the harvest, the apples are taken to an apple juice making establishment, where they are sorted and washed. Then, they are chopped inside an industrial fruit chopper.
Juicing occurs inside a cider press. Chopped apples are placed inside the bladder press, a large, closed hydraulic press with a perforated cylinder and a long, sausage-like bladder in the center which works by expanding the bladder using water pressure to extract the juice.
As pressure is exerted into the bladder, the apples are pressed against the side of the cylinder and unfiltered juice is pushed out the perforations in the cylinder. What remains from the squeezed apples, the compost, is discarded, or fed to animals.
The juice is drawn inside a pasteurizer, where it is filtered and boiled at a temperature of 85-90 C. The juice is organic, with no sugar content. Then it is bottled in juice bags. The bags can be stored in a cool place, such as a cellar for up to 6 months.
The quantity of juice collected may vary according to the types of apples. With 5 kg of apples, you can fill a 3 L bag.
While a non-organic fruit juice manufacturer may only use a small number of fruits, this juice is all-natural, using only apples, without additives, containing only naturally occurring sugars from fruits. These drinks are fresh, natural, and healthier than the apple-flavored juices.
Similar Articles
Traditional Plum Jam Making in Romania – Povidlă – No Sugar Recipe
Romanian Peasant Harvesting Corn By Hand, Just Like in Olden Days