Discovering Traditional Crafts on Rural Transylvania Tour in The Land of Făgăraș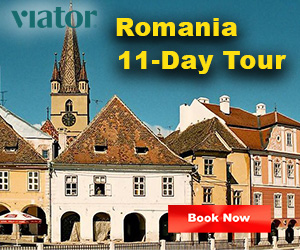 The basic features of the Romanian folk costumes in Transylvania region are two rectangular aprons (catrințe or reg. cretințe), black or in combination of red and black, tied in front and back over a form of blouse (ie) plus skirt or long underskirt extension, vests, coats and headdresses. Preferred footwear are shoes and boots. In addition to the basic features, the folk costumes of Transylvania have many other features like cutting, decoration, color and design that vary based on sub-regions.

This year, we spent some time observing traditional crafts and Romanian folk costumes on a rural Transylvania tour in The Land of Făgăraș. Spanning 65 km, the Land of Făgăraș (Olt Land), is tucked between massive Făgăraș mountains and Olt River Valley. It is a land of green hills crossed by dozens of rivers, along which a variety of villages are sited: Arpaşul de Sus, Arpaşul de Jos, Ucea de Sus, Ucea de Jos, Viştea de Sus, Viştea de Jos, Drăguș, Sîmbăta de Sus, Sîmbăta de Jos etc. Taking advantage of their natural resources, people build grinding mills, fulling mills (piue), waterpools (vâltori) and different other mechanical water actioned systems on rivers. A natural waterpool built on Lisa river and a wool carding machine are still in use in Lisa commune.

Many old traditional crafts passed on from generation to generation still thrive today, lovingly preserved by artisanal craftsmen from the village of Drăguș. Dating back to the 14th century, the village of Drăguș was made famous in 1929 by professor Dimitrie Gusti and a team of 80 sociologists, teachers, students and lecturers. For two months, the team studied in detail the day-to-day social life, culture and rural crafts. The outcome were twelve books, pictures and the first sociological documentary: "Drăguș – Life in a Romanian Village".
Local Loom Weaver Fogoroș Viorica Describes Romanian Folk Costumes in the Village of Drăguș – VIDEO
Packed with great cultural load, hundreds of years of traditions are brought to life inside the village of Drăguș, where traditional craftsmen still keep rural crafts alive. Aiming to see whether old forms of crafts still exist today, we head to the village of Drăguș to discuss with local loom weaver Fogoroș Viorica, who will be our local tour guide for the rest of the day, explaining the traditional costumes and the art of weaving complex patterns in the village of Drăguș.

To begin with, Viorica happily pulls out of the closet a few of her favorite pieces of traditional costume. The Romanian folk costumes in the village of Drăguș is different from any other costumes from the Land of Făgăraș. "It is the most vivid", she explains. Basically, women's traditional costumes can be divided into two types: blouse and two embroidered black aprons (cretințe) over a hand pleated skirt, or long blouse with underskirt attached and a pleated bottom multicolored woven skirt (șorț) over the blouse underskirt that is visible to the side closure.
The loom woven blouse, ie, (locally called brâu) has ruffle cuffs (fodori), hand sewn wrinkles (zbârciogi) at the shoulders and neck, and a hand sewn collar (obinzală) above the neck wrinkles. It has woven geometric decoration in one color (white, yellow, blue, black), worked with weaving techniques called "tehnica alesăturii în spetează" (with heddle rods and weaving swords).
Hand knitted striped woolen socks in vivid colors and black fringed headdresses complete the look.
Men's blouses are straight cut, over the long winter woolen pants or summer cotton pants. A waist belt (șerpar, chimir) is added to the blouse. Their hats are adorned with peacock feathers and beads (căciulă cu vâstră), or a prominent tassel (ciucur). In cold days, they wear fulled wool vests (laibăr), sheepskin vests with front or side closure (pieptare înfundate) and coats (cojoace).
The striking color combinations or red, blue, green, purple, burgundy and black make people from Drăguș really stand out at any event. Village events are one of the best times to see all the many different styles of traditional dress.
Location:
Village of Drăguș, Brașov County, Transylvania
Village of Viștea de Sus, Brașov County, Transylvania
Read Also
Cheesemaking in Transylvania – Traditional Sheep Cheese Recipes