This article features affiliate links, meaning we'll earn a small commission if you purchase through these links. Please read our Privacy Policy for more details.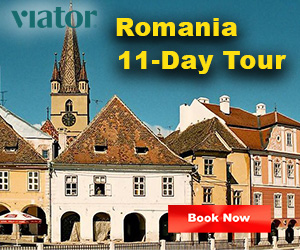 With snow covered mountain peaks on the horizon, the village of Drăguș, one of the most beautiful villages in Romania, has a well-known community of skilled craft workers, many more than it's neighboring villages from Transylvania Land of Făgăraș. Perhaps this comes as a result of constant media attention ever since 1929, when first attracted Romanian specialists in sociology. People here are sustaining themselves through farming and raising livestock, dress in traditional clothing and women carry on the ancestral tradition of weaving.
Affiliate links Schacht Cricket Loom 15 inch
Loom Weaver Fogoroș Viorica Weaving Complex Patterns With Heddle Rods and Shed Sticks
Looking to understand the intricacies of the traditional and skilful techniques involved in the processes of achieving their specific patterns, we meet 65- year old loom weaver Fogoroș Viorica.
After she gave us an insider's view on the Romanian folk costumes and traditional textiles from the village of Drăguș, she explains the weaving methods of a traditional blouse (ie).
Although she's weaving on a three harness loom, she's using only two shafts for plain weave. To create the pattern, additional equipment is used. A number of rods with pieces of string tied in loops are added to the warp. These are called heddle rods and each one has a set of warp strings attached to the leashes.
When a heddle rod is lifted, it lifts up the warp strings attached to it, allowing the weaver to produce complicated weave structures. The number of heddle rods used depends on the complexity of the pattern.
To create this beautiful pattern, specific to the village of Drăguș, Viorica uses no less than 19 heddle rods, a laborious task, as she has to take frequent breaks from weaving to insert shed sticks within the sheds created from the threads held on her heddle rods.
To pick up the pattern, she has to stand up, bend over and pull the shed stick closer, behind the shafts, then replace it with the weaving sword, which is placed vertically to form the shed. Just imagine the time, effort and care that goes into weaving the wonderful blouses from Drăguș.
The pattern, commonly worked with industrial cotton (arnici), can be encountered only in the village of Drăguș, with slight variations given by color, or number of heddle rods used. The oldest known blouses were hand embroidered with black or blue cotton thread. The white silk is a late preference.
National Costume Doll Collection to Carry on Village Traditions
Weaving has been a part of Viorica's life since childhood. "My mother worked a lot. I keep a few items made by her", she says. Since then, many things have changed, but her passion for textile art is stronger than ever, pushing her to create folk costumes for dolls.
From her workroom, we step into the hallway, ending in front of a table full of dolls, their miniature clothes exact copies of the original traditional costumes.
Affiliate links Best Art Craft and Sewing Deals
These includes not only original handmade costumes in miniature, but also specific accessories. "This is a costume with păstură", she explains while pointing at a girl's back apron.
She goes on to describe this particular attire: "the black apron worn at the back side, over the underskirt blouse extension is called păstură. A multicolored woven șorț with geometric motifs is worn at the front side. Part of the blouse extension, visible from one side, is pleated.
Another doll is dressed with woven blouse, pleated skirt and two embroidered black aprons worked with silk, regionally called cretințe.
We see different kinds of headdresses, women's simple black fringed scarves, or prominent tasseled hats and lad's hat with outstanding ornaments- beads and peacock feather adornment. Women's knitted striped socks in vivid colors, also part of the traditional costume from Drăguș, embroidered vests and leather peasant sandals finish the look.
Read Also Weaving Art Thrives in This Village Thanks to Dedicated Artisans