This article features affiliate links, meaning we'll earn a small commission if you purchase through these links. Please read our Privacy Policy for more details.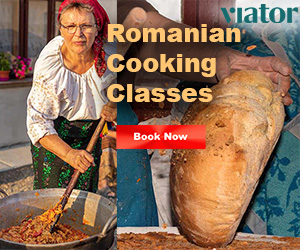 The sounds of mirth echoes through the hall. The rambling country house resounds with the merry laugher of the youngsters as the good cook Burcuță Maria prepares Romanian traditional sweet bread for her children and grandchildren.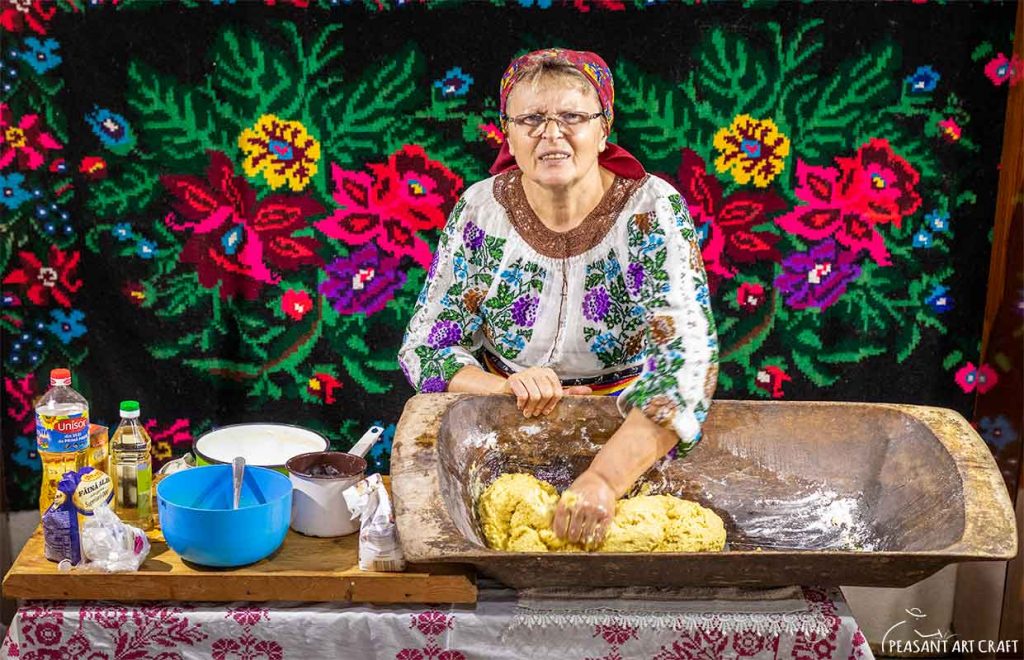 Affiliate links Large Wood Pastry Kneading Dough Board
There's nothing like the sweet aroma of cozonac wafting through the house as it bakes. There is no smell that is more inviting, comforting, and symbolic of Christmas than the Romanian traditional sweet bread.
Many Romanians have a recipe that has been passed down through family and friends. After trying many variations, the recipe we decided we liked best for its heavy filling and texture is made in Bucovina. I never saw such preparations for Christmas before!
Affiliate Links KitchenAid Artisan Series Stand Mixer with Pouring Shield
Our host immersed in a large wooden dough bowl, kneading dough for 6 cozonaci, making sure there will be enough for everybody who comes to dinner, neighbors included. The room where the dough will rise must be warm, so she got up early and made a fire in that room.
Then, she gathered all ingredients and brought them to room temperature, before kneading the dough. She explains the process of demonstrating traditional techniques as she prepares this delicious recipe.
Here's what you need to make two cozonaci::
1 kg flour
500 ml milk
300 gr sugar
5 eggs
50 gr fresh yeast
½ tsp salt
50 gr butter and 50 ml warm oil
Rum essence
1 tsp vanilla sugar
400 gr chopped walnuts
Turkish delight
Raisins
Affiliate links Round Cake Baking Pan Nordic Ware Bundt Pan
Dough
Affiliate links Nonstick Loaf Pan 9 Inch by 5 Inch Steel Pan Gray with Orange Handles
Sift the flour two times in the dough bowl. Make a hole in the center and add the fresh yeast previously dissolved with a little warm milk and 1 tsp sugar. Let rest for 10 minutes, until it begins to form a creamy foam on the surface of the mixture. Meanwhile, dissolve sugar in warm milk and add rum essence and vanilla. You can also add lemon zest if you like. Separate egg whites from yolks. Keep the whites for filling and add the yolks mixed with salt to the bowl, but not directly over the leaven. Add the warm milk, then make it into a dough, kneading and adding warm oil and butter gradually. Keep kneading for about 20 minutes, until the dough becomes elastic. Cover the bowl and let it rest for an hour in a heated room.
Filling
To prepare the filling, whip egg whites, add finely chopped walnuts, 3 tbsp cocoa, 4 tbsp sugar, chopped Turkish delight, and raisins.
Affiliate links Enameled Cast Iron Dutch Oven Baking Pan and Gridle Lid
After the dough has risen, split it into 4 balls. Spread each ball with a roller and fill it with ¼ of the mixture, then roll it up. Put two rolls one end over the other and braid them. Put them in two buttered pans, topped with baking paper, and let rise one more hour.
Finish
Before placing them in the over, you need to make sure you will get a nice crust. You need an extra egg for brushing. Brush them with the yolk and sprinkle sugar on the surface. Then place it in the preheated oven for about one hour, depending on your oven. Beat the egg white and keep it for final brushing.
When the sweet bread is ready, brush it well with egg white while still hot, to get that lovely shiny crust. Wow! Look at that crust!
Affiliate Links OUTDOORS Pizza Ovens Wood Pellet Pizza Oven Wood Fired Pizza Maker
Similar Articles
Romanian Peasant Harvesting Corn By Hand, Just Like in Olden Days
Canned Vegetable Spread Romanian Local Home-Cooked Zacusca
Fishing in The Black Sea, Romania – Catching and Cooking Horse Mackerel