This article features affiliate links, meaning we'll earn a small commission if you purchase through these links. Please read our Privacy Policy for more details.
Driven by the desire to step back in time, once more we cross the mountains in the ever-so-special land of Maramureș, where the past and the present touch one another as if a thread pulls them together. We head straight into the heart of Maramureș, to the picturesque village of Breb, nestled at the foot of the Gutâi mountains. The unpaved road winds over the hill alongside the sharp, castellated ridge of Creasta Cocoșului, a former volcanic crater that is the most iconic landmark of Maramureș. Breb is a labyrinth of dirt tracks. On each side, the houses are separated by yards, large enough to accommodate farm animals. To each dwelling, carved massive wooden gates are so big and imposing, making you stop abruptly and crane your neck, admiring the craftspeople's skilled hands. With grandiose woodcarvings and an abundance of woodworkers, it comes as no surprise that Maramureș is called the Land of Wood, the paradise of woodworking.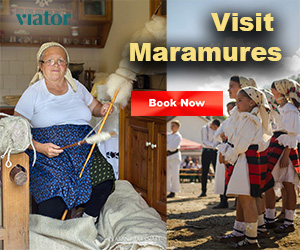 Curious to meet new people, we started on the track through the village, past bike riders rolling on, enjoying the untouched countryside, with its traditional architecture, and leafy green trees. We stop to have small talks with random friendly locals, always open and willing to guide you through and give you any information you would ask for. We greet some farmers stacking hay. A fresh scent of freshly mown grass and wildflowers spreads all over, bees humming like mad, bumblebees constantly buzzing around and bumping into your face.
Being caught up in the scenery, we find ourselves standing just outside woodworker Petric Ioan's house. With its tall gates featuring ornate woodwork, it is quite easy to spot. Traditional designs specific to the region, twisted ropes, three-strand braids, cartwheels, rosettes, and wolf teeth had been carved upon the gates and fence posts. Just above the entrance, a carved peasant with a horse and a message welcomes you. It reads: "We were and we will be".
His gate most certainly has an imposing and grandiose feeling to it. You can tell from afar that mr Ioan is a dab hand at woodworking. Rhythmic tapping sounds coming from the yard. Outside, there is a team of woodworkers preparing and cutting timber which will be used to build a shrine. A pleasant smell of fresh wood greets us as we enter the workshop. Inside, Mr. Ioan is hard at work, turning a large block of oak wood into a porch pole, one of the six of a kind that he must work on. They have always been made with the intention to be seen by and to impress.
"The influence came from the Austro-Hungarian empire, during their domination of the region. As a sign of distinction, only those who were wealthy, who collaborated with the empire were worthy of having gates of that size," he explains.
It starts with a block of wood. "To begin with, a sketch is worked out, then it is hewn and carved with chisel and gouges. All it takes is patience, skills, and a little strength."
We watch as he goes about digging in the contours of the design with a gouge, then giving depth with a flat chisel, and smoothing out the irregularities with a very sharp chisel. Just as we speak, a three-strand braid emerges before our eyes.
Affiliate links Professional Wood Chisel Tool Sets Sturdy Chrome Vanadium Steel Chisel
"This pattern is specific to Maramureș woodcarving art. It can be seen on gates, as well as church furniture, and porches. It is worked in the same manner as it was a century ago. I am not even interested in a machine to make my work easier, because then it would lack the traces of the human touch. The old men who had done it before had plenty of time. As an old saying goes: it takes a winter to sew a blouse, and a summer to build a gate. Back in those days, there weren't teams of woodworkers. It was the men of the house who built them back then", he says.
In recent years, dozens of traditional wooden gates have been made in his workshop. Drawn by traditional architecture, he often retreats in historic areas to contemplate his ancestors' artworks.
"I sometimes take my camera and amble around historic sites, mostly old churches. I watch how my ancestors worked, how they carved wood, and how they managed to put up extremely heavy blocks. I preserve the traditional patterns. In addition, I have my own art exhibition with reference to the past."
That being said, he drives us up the stairs into a small dwelling, where he arranged a little art exhibition that features his woodworking art, including his paintings, relief sculptures, chests, and full-size carvings representing village life.
"I made these figures thinking about people who lived in this village. Wheelwrights who made cartwheels, people who, by use of quite simple tools, managed to create strong and durable things, like the cartwheels, for example. They were made to resist bumpy rides."
Even though he is tied up with his woodworking projects, it seems to me that he likes to spend time daydreaming about the world of the past. As he sits there talking about each sculpture, his face lights up with joy. He talks a lot about time. He never gives any impression that he is in any hurry as if he had found out some secret to wise time management.
Woodworking Craftsman Builds Rustic Stool With Hand Tools
"I've seen people growing more and more unpleased and stressed out, on a time crunch. People had time, and they were better prepared to face difficult times than us today."
How true! Not just once did the elders tell us how tough life was back then, how they struggled for bread, yet they were so strong both mentally and physically.
"Thinking that this bench will last long after I'll be gone", he says pointing it out, "I carved a message into it. It reads: "Sit down for a moment, and feel the touch of the old days", he says reading out loud.
A time when women put babies in slat pack baskets that were carried on their backs when children enjoyed playing with sticks and stones when lads handcrafted complicated spindles to demonstrate their skills to the one they were in love with when you traveled by coach and horses to get to places and it took you ever so long to get anywhere. If you ever plan to visit Maramureș, just spend a while here and surely you will get a glimpse of the old days in a place that feels like it's stuck in time.
Similar Articles
Making Roof Shingles With Hand Tools
Making Straw Hats: Milliner Demonstrates Traditional Hatmaking